By Dr. Anoob Pakkar-Hull & Dr. Sushant Shetty
In the new normal, the coronavirus pandemic has forced us to practice social distancing and incorporate the use of face masks into our daily lives. Despite playing a crucial part in the protection and safety of all, the repeated use of masks has led many to discover a new problem – "maskne" (acne related to mask wearing).
Acne, a very common skin condition, is an issue most of us have dealt with at some stage of our lives. It's famously annoying for teenagers, but is seen across all age groups. If not well-managed, acne can have a psychological impact on people, sometimes leading to loss of self-esteem and depression.
Named by dermatologists, the term "maskne" is old in the health professional's lexicon, accustomed to the repetitive use of masks. In the last year, the term's popularity skyrocketed as a consequence of the increased use of protective masks. The Google Trends graph below illustrates the trend.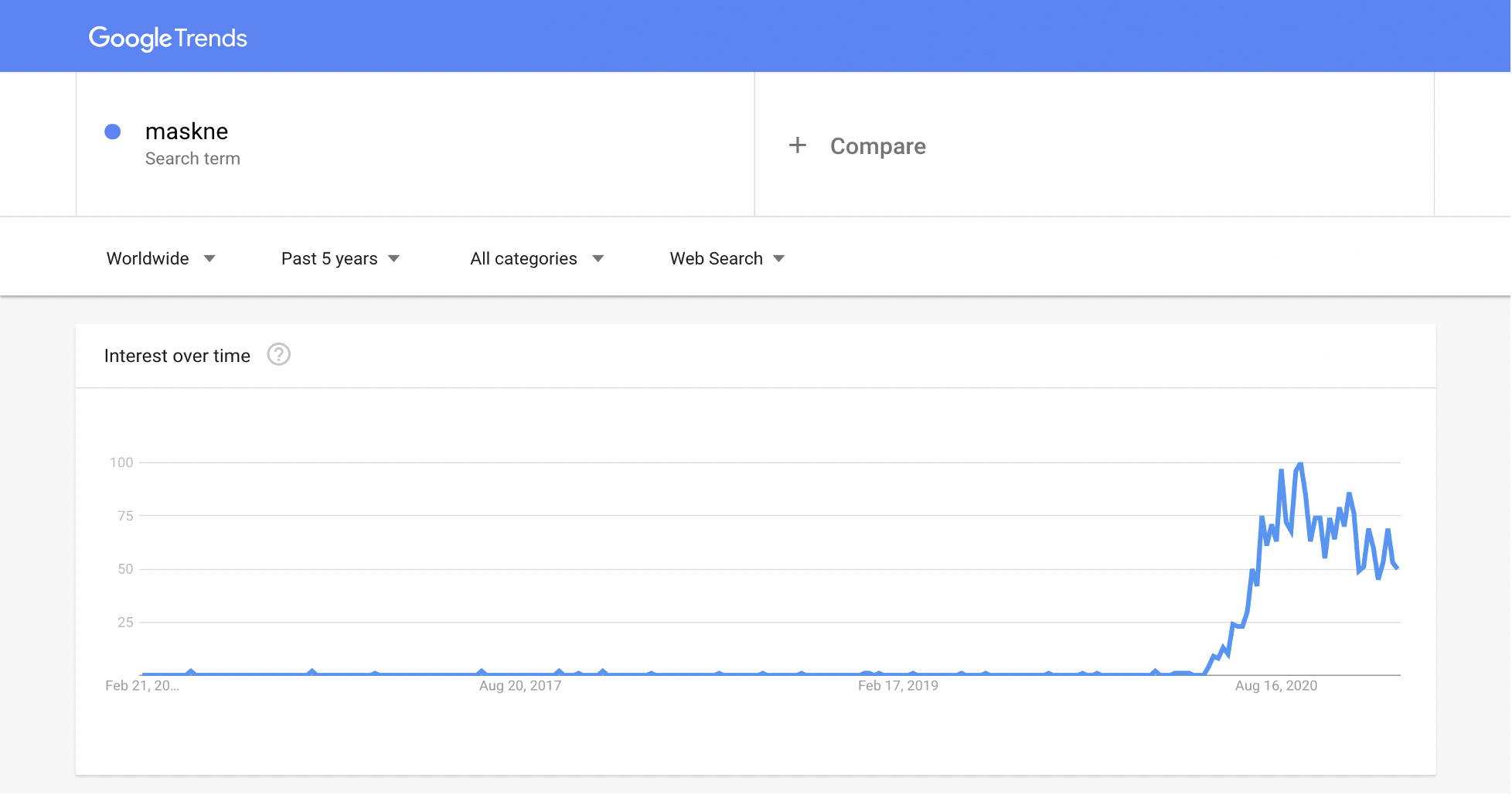 So how exactly does Maskne occur?
When wearing a mask for a long time, your face ends up becoming moist and hot, causing certain friction on the skin. This ends up creating a humid environment where bacteria can proliferate, altering the natural microbiota of the skin, consequently making room for acne to appear. In addition to irritating the skin, masks can clog pores and cause acne, rosacea and perioral dermatitis. Typically, mask-related acne is found around the mouth and nose, and usually prevalent in those who wear masks often and for prolonged lengths of time. So, how do we keep safe while using a mask, but also doing our best to avoid mask-related acne? The good news is that there are many simple steps you can take to avoid and treat "maskne".
Learn how to avoid and treat Maskne!
To help prevent Maskne here are some tips for you. There are many simple steps you can easily incorporate into your routine.
Choice of mask
o The first step in the prevention and treatment of "maskne" is to give preference to soft fabrics when choosing a mask – amongst them are cotton, silk and surgical material. Avoid masks made with rougher fabrics.
o Ensure that the mask is not tight and hurts your face. The ideal size to protect yourself from coronavirus and prevent acne completely covers your chin, mouth and nose.
Change with frequency
o Prolonged use of a mask can create an ideal scenario for acne formation. The moisture generated between the face and the material creates a favourable environment for the reproduction of fungi and bacteria.
o Therefore, it is worth changing your mask every two to four hours (or when it feels damp). You want to avoid that moisture.
Skincare routine
o Even those who do not usually have acne need to devote more time and attention to skin care if using masks a lot. Key points to remember:
▪ Always wash hands with normal soap before washing your face.
▪ Never excoriate pimples or touch the face out of habit.
▪ Wash your face twice daily with a degreasing cleanser for oily or
acne-prone skin. Additional toner might be necessary.
▪ Cleansing should remove dirt, debris, germs and excess oil.
▪ Dab dry with disposable dry soft tissue and not with towels.
▪ Even if you have oily or acne-prone skin, applying moisturizer adds a protective layer that can reduce dryness and prevent skin problems.
Easy on the makeup
o If you're going to be wearing it for a long period of time, skip wearing makeup on the area covered by the mask, if possible . Makeup is more likely to clog your pores and lead to breakouts. If you really can't do without it, then apply it lightly.
Take mask breaks
o One easy idea to implement is taking a mask break every couple of hours. If possible and when safe to do so, taking your mask off for 15 minutes can help you avoid Maskne.
Wash your cloth masks
o Washing your cloth mask is essential – it helps remove oils and skin cells from inside the mask. If you're wearing a mask for long periods, I'd recommend washing it daily in hot water to prevent skin problems.
Treating Maskne
The recommended treatment for maskne is the same as treating any other form of acne. According to the 2018 National Institute for Health and Care Excellence (NIICE) UK guidelines for the management of patients with mild to moderate acne, a topical retinoid is the first-line treatments option used alone or in combination with topical benzoyl peroxide.
My topical retinoid of choice would be Adapalene gel. Adapalene is a 3rd generation topical retinoid which is a prescription only medicine (pom) in the UK.
Maskne treatment regime :
Adapalene gel on lesions at bed time, after washing the skin with mild or soapless cleanser using warm water and patting dry. A thin film of gel should be applied with the fingertips. There may be a transient burning or stinging sensation as you apply the gel. Wash hands before and after application.
Topical Benzoyl Peroxide can be used if Adapalene is not well tolerated or contra-indicated for other reasons. It should not be simultaneously used with retinoid treatments.
Chemical peels with Salicylic acid, TCA buffered with Arginine and Lysine have good anti-inflammatory properties, but need to be administered by a professional and require a few sessions for optimal results.
Micro-needling with a Derma stamp using Growth Factors will hasten the healing process. My 'go to' treatment is GFIT (Growth Factor Induced Therapy) by AQ, it delivers the growth factor directly into the dermis via the vertical microscopic channels of the Derma stamp. An average of 3-4 sessions may be required to see effective improvement in the acne.
Further options for refractory Maskne are:
– Systemic treatments (retinoids, antibiotics and hormonal control)
– Oral antibiotics (tetracyclines such as lymecycline or doxycycline)
Rarely, the maskne can worsen to form an eczema and that may need a mild topical corticosteroid with an antibiotic. Of course, this will depend on the individual case, but what matters more is the adjustments done to prevent Maskne and amidst the global pandemic one less thing to worry about.
To conclude this article, I'd like to say that not wearing a mask is not an option during the pandemic. We must make sure to protect ourselves and others. If you suddenly develop Maskne remember there are many ways to treat it and avoid it.