by Dr. David Ong
During the aging process there is ongoing bone resorption, fat loss and skin laxity changes. A common injectable biostimulator is poly-L-lactic acid (PLLA). It is considered a multifaceted product because it is used to address both volume loss and improvement in skin quality1,2.
Studies have demonstrated a statistically significant increase in skin elasticity, hydration, radiance and smoothness in PLLA-treated subjects1,2. There is also decreased pigmentation, erythema and pore size1. An improved glow or luminosity resulting from improved hydration, increase in skin thickness and improved skin laxity2 has also been described.
History
In 2004, Poly-L-lactic acid (Sculptra) was approved for the treatment of HIV-associated lipoatrophy by the FDA. In 2009, indications were expanded for the correction of shallow to deep nasolabial folds and other facial wrinkles in healthy patients (Sculptra Aesthetic)4. "Sculptra Luminosity" has been anecdotally described: the global improvement in skin quality following PLLA treatments2. PLLA can be used for global skin quality improvement but this remains an off-label indication5.
Composition and Reconstitution
On vial of Sculptra contains a freeze-dried powder of PLLA, sodium carboxy-methylcellulose (USP) and non-pyrogenic mannitol5. The USP and mannitol act to stabilize the PLLA and do not have an effect on neocollagenesis. PLLA must be reconstituted with sterile water for injection (SWFI) and often xylocaine5. The final injection volume can often vary from 5ml up to 24mls3.
Mechanism of action
On injection of PLLA, a foreign body reaction is simulated resulting in neocollagenesis.
A cellular inflammatory response follows and then develops into the formation of vascularized, connective tissue. Eventually the PLLA is hydrolyzed into lactate, pyruvate, and finally oxidized into carbon dioxide3,6.  After 6 months, the inflammatory changes subside. However, the extracellular matrix production can continue which manifests as an increased dermal thickness that can last 2 years7,8.
Skin Quality Measurements
There is no direct objective measurement of skin quality1. Previous studies used biophysical measurements of skin, namely stratum corneum hydration, transepidermal water loss and cytometers to measure the representative improved skin quality1. This equipment may not be readily available in cosmetic dermatology clinics and represent skin quality changes numerically rather than visually.
Objective
To validate the effect of repeated PLLA injections on the skin quality of the face and hands using a standardised 9ml reconstitution protocol and to document these changes using in-clinic standardised digital photography and digital skin analysis.
Methods
Patient Selection and Time Frame
Women in the 30s, 40s and 50s were randomly selected to receive 3 rounds of 2 vials of PLLA injectable treatments every 6 weeks with PLLA to their face and hands. The PLLA was prepared as per the protocol below. PLLA treatment for performed for volume deficits and skin quality treatments.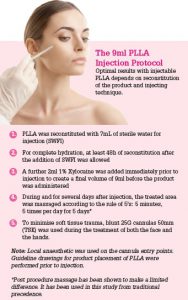 The 9ml PLLA Injection Protocol
Optimal results with injectable PLLA depends on reconstitution of the product and injecting technique.
(1) PLLA was reconstituted with 7mL of sterile water for injection (SWFI)
(2) For complete hydration, at least 48h of reconstitution after the addition of SWFI was allowed (3) A further 2ml 1% Xylocaine was added immediately prior to injection to create a final volume of 9ml before the product was administered
(4) During and for several days after injection, the treated area was massaged according to the rule of 5's: 5 minutes, 5 times per day for 5 days*
(5) To minimise soft tissue trauma, blunt 25G cannulas 50mm (TSK) was used during the treatment of both the face and the hands.
Note: Local anaesthetic was used on the cannula entry points. Guideline drawings for product placement of PLLA were performed prior to injection.
*Post procedure massage has been shown to make a limited difference. It has been used in this study from traditional precedence.
Standardised Digital Photography
Standardized photographs were taken at 00 frontal, left and right angled 45o and 900 profile views. Standardised Photographs were taken using a digital single lens reflex (DSLR Olympus OMD1 Camera) and the digital skin analysis device (Observ 520, Sylton Diagnostic Systems).  Due to the heterogeneity of skin, different skin conditions have their own characteristic fluorescence9. For example, a Wood's lamp (UV wavelength of 340-450nm) can distinguish between infection, melasma and vitiligo amongst other dematoses9.
The digital skin analysis device has standardised facial positioning and multiple light digital photography modes. The photography modes used include Parallel polarised (for skin surface, fine lines, wrinkles, texture and pores), Stimulated Woods light (for skin hydration and oiliness) and Complexion analysis (skin tone and pigment irregularities)10.
Patient Evaluations
Patient and the treating Physician performed a treatment satisfaction rating. Each patient's satisfaction with their facial appearance was assessed using the subject satisfaction assessment scale: 2 very satisfied, 1 satisfied, 0 no opinion, -1 unsatisfied, and -2 very unsatisfied.
Safety
Adverse events were monitored and recorded throughout the study. Patients were asked to report product-related adverse events.
Results
Standardised Digital Photography
Photographs taken by DSLR camera and the digital skin diagnostic device were able to demonstrate improvement in skin quality following the PLLA treatment course using the standardised dilution protocol.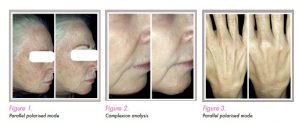 The use of a digital in-clinic skin analysis device was able to demonstrate improvement in fine lines and wrinkles (Photograph 1: Parallel polarised mode), pigmentation (Photograph 2: Complexion analysis), and fine lines and skin quality of the hands (Photograph3: Parallel polarised mode).
Patient Satisfaction Evaluations
Both the patients and the Physician were satisfied or highly satisfied with the treatment results.
Discussion
PLLA reconstitution volume and reconstitution time are thought to have an impact on patient outcomes3. However these vary widely in the published literature from 5-10ml for the face, 14ml for the dorsum of the hands and even up to 24ml for the neck, décolletage3. The variations between the PLLA label recommendations compared the PLLA protocol used in this study are documented below (Table 1).
The primary treating physician believes in a standardised constitution in order to allow a comparison of treatment area dosing in the same patient and also for comparison between patients. It is also beneficial in simplifying operational clinic processes and can help in error minimisation.
As there is the no direct measurement for skin quality, previous studies have used biophysical improvements before and after PLLA treatments to measure skin quality improvement1. This study shows that using standardised digital photography and a digital skin analysis device, improvements in pore size, texture, hydration, pigmentation, fine lines and wrinkles can be demonstrated visually.
The limitations of the study are the small number of patients enrolled. One patient developed painless nodules following treatment which resolved spontaneously with no further intervention over 6 weeks.
Conclusion
The 9ml PLLA reconstitution protocol (7ml sterile water for injection (SWFI) and 2ml Xylocaine) has a positive effect on skin quality of the face and hands in women across a range of ages.
Improvements in pore size, texture, hydration, pigmentation, fine lines and wrinkles is demonstrated by standardised digital photography and by digital skin analysis. This study contributes further photographic evidence in favour of improved skin quality resulting from repeated PLLA treatments.
References:
Bohnert, K., Dorizas, A., Lorenc, P.Z., & Sadick, N.S. (2018). Randomized, Controlled, Multicentered, Double-Blind Investigation of Injectable Poly-L-Lactic Acid for Improving Skin Quality. Dermatologic Surgery, 45, 718–724.
Avelar LE, Cazerta CE (2019). The improvement of the skin quality with the use of PLLA. J Dermat Cosmetol. 2018;2(2):101-102. DOI: 10.15406/jdc.2018.02.00052
Lorenc, Z. (2012). Techniques for the Optimization of Facial and Nonfacial Volumization with Injectable Poly-L-lactic Acid. Aesthetic plastic surgery. 36. 10.1007/s00266-012-9920-3.
Schierle, C. & Casas, L. (2011). Nonsurgical Rejuvenation of the Aging Face With Injectable Poly-L-Lactic Acid for Restoration of Soft Tissue Volume. Aesthetic surgery journal / the American Society for Aesthetic Plastic surgery. 31. 95-109. 10.1177/1090820X10391213.
Galderma Aesthetics. Sculptra (PLLA) [package insert]. U.S. Food and Drug Administration website. https://www.accessdata.fda.gov/cdrh_docs/pdf3/P030050S002c.pdf. Accessed 28 Jan 2020.
Onesti MG, Monarca C, Rizzo MI, Mazzocchi M, et al. Minimally invasive combined treatment for Parry-Romberg syndrome. Aesthet Plast Surg 2009;33:452–6.
Brady JM, Cutright DE, Miller RA, Barristone GC. Resorption rate, route, route of elimination, and ultrastructure of the implant site of polylactic acid in the abdominal wall of the rat. J Biomed Mater Res 1973;7:155–66.
Moyle GJ, Lysakova L, Brown S, Sibtain N, et al. A randomized open- label study of immediate versus delayed polylactic acid injections for the cosmetic management of facial lipoatrophy in persons with HIV infection. HIV Med 2004;5:82–7.
Veasey, John & Miguel, Bárbara & Bedrikow, Roberta. (2018). Wood's lamp in dermatology: Applications in the daily practice. Surgical and Cosmetic Dermatology. 9. 328. 10.5935/scd1984-8773.201794964.
Sylton Diagnostic Systems. Observ. Sylton website. https://www.sylton.com/observ. Accessed 28 Jan 2020.