by Dr Desmer Destang
THE INDUSTRY OF Aesthetic Medicine is exploding with novel innovative skin care ingredients all aimed at recreating youth, and clearing skin blemishes. One of the newer additions is tranexamic acid (TXA). TXA is well-known as an oral medication useful in managing stubborn melasma cases. But what about the topical form of TXA? The purpose of this publication is to highlight the extensive benefits of TXA to the skin as an organ, and suggest extended applications for the dermatological use of TXA in managing cosmetic skin conditions.
Tranexamic acid mechanism of action
Tranexamic acid (trans-4-aminomethyl cyclohexane carboxylic acid) is a carboxylic acid with a molecular configuration as shown in figure 1. TXA as a medication has been with us for over half a century since its introduction in 1962 by a Japanese husband and wife team as an effective prescription for heavy menstrual and dental extraction site bleeding. The mechanism of action of this lysine analogue drug centers on its ability to reversibly inhibit plasmin. Plasmin lyses the fibrin clot, and TXA's action prevents…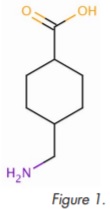 To read more, do sign up for AAAM Membership to subscribe to AJAM.
Members to login to read full article
Source: Destang, D. 2020, 'Tranexamic Acid in Skin Care – Beyond Skin Whitening', American Journal of Aesthetic Medicine, Issue 9, pp.35-38