By Dr Rami Haidar
Introduction
Lip augmentation is one of the most common procedures in the middle east, in my practice alone, about sixty percent of my dermal fillers patients request lip augmentation. When patient requests lip augmentation, it is either adding volume to the lip, lip contouring or both. This article is aimed to explain my personal method in lip augmentation and how to avoid complications.
Anatomy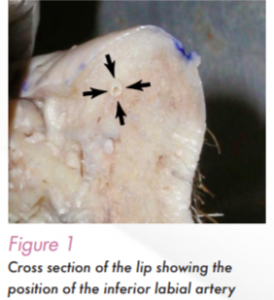 The lip is supplied by the superior and inferior labial artery, which are branches of the facial artery. (Figure1) the muscle that lies over it is the Orbicularis Oris muscle; it is superficial to the superior and inferior labial artery. Injecting the hyaluronic acid filler deep in the lip might cause a hematoma or intravascular augmentation, therefore that should be avoided especially when using a needle. When volumisation is indicated, hyaluronic acid should be placed superficial to the muscle to avoid any undesirable complications.(Figure 2)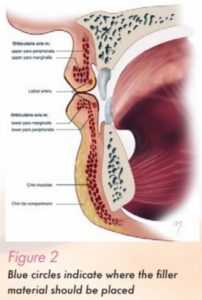 To read more, do sign up for AAAM Membership to subscribe to AJAM.
Source: Haidar, R. 2019, 'Lip Fillers My Experience', American Journal of Aesthetic Medicine, Issue 8, pp.6-8